or most people, BMW stands for aspirational, high-engineered cars. For artists, BMW also represents art and the support of art practices. This is thanks to the carmaker's long association with art, which I have talked about in an earlier column. The BMW Art Car Project was born in 1975 when French race-car driver and auctioneer Hervé Poulain commissioned American artist and friend Alexander Calder to paint a 3.0 CSL, which he subsequently raced at Le Mans. Other great artists who painted on BMW cars subsequently, though none of them found place on the race track, are the who's who of art history: Andy Warhol, Frank Stella, Roy Lichtenstein, Robert Rauschenberg, Jeff Koons and Olafur Eliasson to name a few. The list goes on.
Today, it is an annual prize and has been rechristened as BMW Art Journey, and the winner's works are shown at Art Basel (Hong Kong, Basel and Miami). This year, guests gathered to celebrate the 18th BMW Art Car, commissioned by Chinese artist Cao Fei (this rising star was also a Yinchuan Biennale artist). She brought BMW into the virtual world by creating a digital rendition of her car seen in augmented reality.
At the UBS Forum in Basel, I had a good time chatting with the energetic cultural head of BMW Dr Thomas Girst, vivacious art world observer Jagdip Jagpal and Indian friends including Arti Kirloskar, architect-editor-publisher Samira Rathod and young artist Snehal Goyal. Everyone wanted to meet the new BMW Art Journey award-winner Astha Bhutail (I was a jury member for the prize). Though the art world outside India was abuzz and curious about this young Indian artist, it hardly made news in the Indian media. That is a reflection of this country's approach to visual art.
On returning to India, I was supposed to be in Thiruvananthapuram. But, at the last moment, my meeting got cancelled. Though the cancellation was unfortunate, it opened up another exciting possibility for me. I was invited by old friend and gallerist Premila Baid for the opening of the new gallery at RMZ Ecoworld, Bengaluru, for Ravinder Reddy's solo show and for the unveiling of the public art projects—all at the same venue, on the same day. RMZ Ecoworld, a huge project, is an enclave of IT parks and commercial SEZ and non-SEZ office spaces. It is the concept of collectors Anu and Manoj Menda, who head RMZ Corp.
This sprawl of a property was developed keeping art in mind. If you move through the campus you will come across works of art specially created for the project by some of contemporary art's biggest names. Subodh Gupta had two pieces—'Dreams Overflowing' and 'Thosa Pani'—but I was especially struck by the second one, which, according to the artist, "is a representation of a tide of water in a frozen moment". Simply spectacular. Visit the campus just to see it.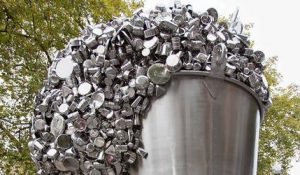 71-Subodh-Gupta-new Silver spring: Subodh Gupta's work 'Dreams Overflowing'
There is also Ravinder Reddy's 'Devi', done in his trademark style, which, you could say, gives a feminine touch to what could have been a completely masculine edifice (an accusation often heaped against most of our architectural enterprises). The other artists who have created outdoor projects are Arun Kumar H.G., whose 'The Link' is a seated bull made from recycled heavy iron chains, Dhruva Mistry ('Spatial Diagram – Vermillion and Crimson') and Jayasri Burman ('Dharitri').
All the artists have stuck to their chosen language and medium, but scaled up the dimensions to titanic proportions. Visitors are aided by a neatly designed map which helps identify the works on the campus. The space also houses two amphitheaters and a gallery, which is burdened by small design oversights, such as a low ceiling. It should have had a high ceiling and tall vertical spaces. Yet, in its intentions and effort to showcase art, Ecoworld soars.