Mihir Menda from Mallya Aditi International School has rustled up an affordable housing initiative for the poor.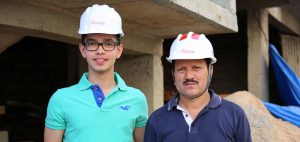 In Bengaluru, most of the school students are donning the entrepreneur's hat at a very early age. These young minds are coming up with inventions that will have an impact on the society. Eighteen-year-old Mihir Menda from Mallya Aditi International School has come up with an initiative that aims to provide affordable housing programmes for the people living in shanty houses. "The whole idea started when I was in the ninth standard. I would always interact with my security guard and one day after my way back from school I got the opportunity to visit his house which is close to my complex. As I entered his house, it was heart-breaking to see his living conditions. I was surprised to see the man always wearing a smile on his face in spite of staying in unhygienic conditions," he recollects.
Deeply moved by his watchman's lifestyle, Mihir began thinking about people who can't afford to stay in proper houses because their income is restricting them. That's when this young founder of Urbanup spoke to his father about social and sustainable housing."He was very supportive and I conceptualised the housing project and went ahead."
While he was studying in school, he felt the urge to do something for the needy. Mihir says, "During my internship I got a chance to work under professor Rahul Mehrotra from Harvard Graduate School of Design. I contacted him to help me in building the project in terms of sustainable design. My main intention is to help the underprivileged sections of the society with an affordable housing solution to 126 families. I have targeted people of low income level so that they can achieve their dreams to live in a preferable environment".
Mihir had shown interest in social work since his childhood days. "My grandfather did social work and I would accompany him. My parents do a lot of social work too and this inspired me too," says the teenager who enjoys reading about disruptive technologies and innovations in sustainability.
Mihir balances his social work and student life so that his studies are not impacted. He says, "Everyday after school I would devote one hour and during the weekends four to five hours. During my exams, everyone would reschedule their meeting according to my exam schedule as my first priority is always my studies." Mihir describes himself as enterprising, artistic, compassionate, athletic and inquisitive. "I am going to study engineering at Columbia University, New York. After completing my degree, I hope to network in this field to make my project successful by next year," concludes Mihir.
Article Courtesy: Deccan Chronicle